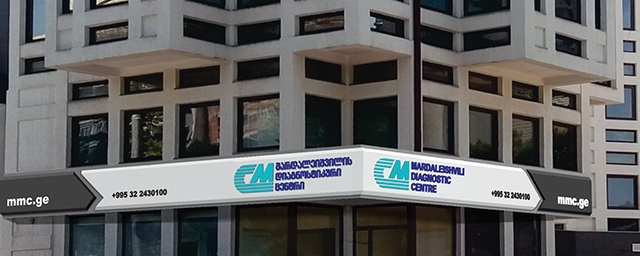 Mardaleishvili Medical Group Holds Press Tour in Modern Standards Diagnostic Center
On November 15, the Mardaleishvili Medical Group organized a press tour for media representatives to its diagnostic center equipped to modern standards. The introductory visit aimed to introduce the new diagnostic center at 4 Tamarashvili Street in Tbilisi.
Visiting specialists introduced tour participants to the unique capabilities of its diagnostic center, which offers patients a full range of x-ray examinations, including a laboratory set up to modern standards and closed automatic systems. A laboratory examination carried out in accordance with these standards guarantees maximum precision during diagnosis.
Mardaleishvili Medical Group cooperates with General Electric, and therefore the diagnostic center is equipped with the company's modern equipment, unique not only in Georgia but also in the region. Particularly noteworthy is the latest model, 3 Tesla magnetic resonance imaging (MRI) as well as mammography with tomosynthesis function, which significantly improves the early detection and accurate diagnosis of malignant tumors. In addition, the diagnostic center in Mardaleishvili stands out with its state-of-the-art models of computed tomography, densitometer, ultrasound, endoscope, radiography and x-ray equipment.
Zaza Koplatadze, director of the Mardaleishvili medical group, welcomed the invited media representatives. The diagnostic center is one of the first not only in post-Soviet countries but in the world to have state-of-the-art equipment of the highest quality, which is a huge success for the Mardaleishvili medical group and the entire Georgia.
"3 Tesla nuclear magnetic resonance imaging (MRI) represents the model closest to General Electric. This is the latest generation of equipment that can diagnose, identify and detect any disease at a very early stage. This is a prerequisite for the detection of any pathology, its treatment and its timely recovery, "explains Koplatadze.
GEL 20 million were invested in the equipment of the diagnostic center of Mardaleishvili. Currently, the clinic employs 120 people.
"Mardaleishvili Diagnostic Center is made up of specialists who have received a good education not only in Georgia but abroad. Today they have returned to us and, therefore, leading doctors recognized in Georgia as well as 'in America and Europe will provide patients with medical research A diagnostic center fitted out in accordance with modern standards will be able to meet the medical needs of the Georgian population with high quality, "says Konstantine Mardaleishvili, head of the Oncology Research Center .
Representatives of the Ministry of Health, Health and Social Services of the City of Tbilisi and the Parliamentary Committee on Health, practitioners and other health professionals were also invited to the presentation of the diagnostic center. .
November 18, 2019 7:49 PM