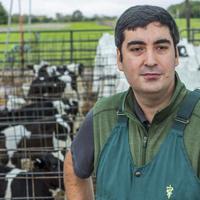 Post-calving diagnostic tools in development | Dairy

Cameron Rudolph Michigan State University-AgBioResearch

EAST LANSING, Mich. – About 75% of illnesses in adult dairy cows occur within the first month after calving. Mastitis and metritis are two of the most serious diseases. The conditions can lead to poor reproductive performance and reduced milk production. They can also cause lameness and, in severe cases, death.
Angel Abuelo, assistant professor at Michigan State University-College of Veterinary Medicine, is working to develop diagnostic tools that predict major diseases during the transition of dairy cows from late gestation to early lactation. He recently received a $642,000 grant for his work from the US Department of Agriculture's National Institute of Food and Agriculture.
"The ability to prevent the establishment of transitional diseases in dairy cows is a significant unmet need in the dairy industry," Abuelo said. "Despite advances in prevention and treatment research, the overall incidence of the disease has remained stable with a few exceptions. There is a knowledge gap that we need to fill in terms of being able to identify disease risk so that we can be proactive.
Research over the past decade has pointed to oxidative stress as the primary culprit in disease development. It is caused by an event requiring increased metabolic demand, such as calving, and the resulting imbalance between reactive oxidant species and antioxidant defenses. Reactive oxidant species are present in lesser amounts during times of minimal stress, but high levels lead to cell damage.