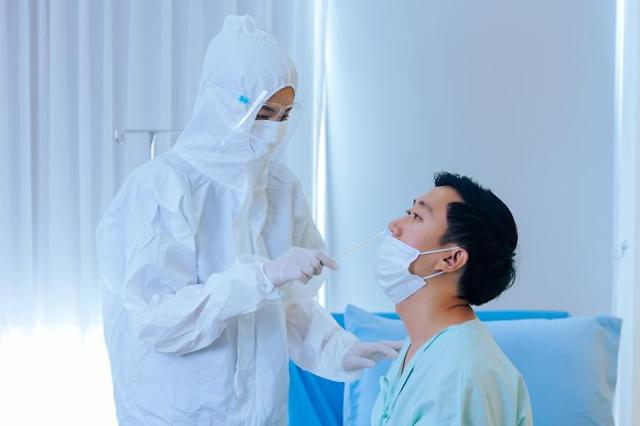 Researchers develop diagnostic technology to detect Omicron variant in 20 minutes
[ad_1]
SEOUL – South Korean researchers have developed diagnostic technology that can detect the Omicron variant in 20 minutes. The researchers were able to acquire results within days, paving the way for health officials to react quickly even if a new variant arose. Diagnostic kits can be easily made as no professional equipment is required.
A research team led by Lee Jeong-wook, professor of chemical engineering at Pohang University of Science and Technology (POSTECH), said the new diagnostic method can discover the "Stealth Omicron", which cannot be detected by a polymerase. chain reaction method (PCR).
Lee's team used molecular diagnostic technology, not sequencing which is used to read DNA or RNA sequences. Unlike conventional technology which can process up to 96 samples per device, the new technology can process more than 125 in 30 minutes. In addition, the method can react quickly even if a new mutation or a new virus occurs in the future.
"I hope that the disclosure of this technology will help accelerate our return to normal daily life," Lee said in a statement released by POSTECH. "We will try to diagnose and respond quickly to new mutations or other viruses that may arise after COVID-19. "
Lee will open the research results on his homepage on December 10 to cooperate with other researchers to develop better technologies and achieve rapid commercialization, as the new method was not perfect as it was the search results in just a few days.
As a reliable and accurate method, South Korea has adopted the Real-Time Polymerase Chain Reaction (RT-PCR) test which amplifies a specific DNA sample. Samples are tested by qualified personnel in special facilities.
The PCR molecular diagnostic method discovers a specific gene for the virus. If a mutation occurs, the mutant virus cannot be found. For a precise diagnosis. the base sequence of the entire gene must be analyzed using expensive equipment and complex preparations. Lee's team cut the time by checking the sequence of some mutated points in the gene.
In September 2020, Lee's team developed detection technology that can quickly diagnose COVID-19 based on the RNA sequence. Fluorescent materials have been attached to the genetic material so that researchers can identify the coronavirus gene with their eyes. The same method was used to detect Omicron mutations.
© Aju Business Daily & www.ajunews.com Copyright: Any material on this site may not be reproduced, distributed, transmitted, posted, published or broadcast without permission of Aju News Corporation.
[ad_2]
Source link